Brasilian Rosewood
and Koa
◊ Back to Features
---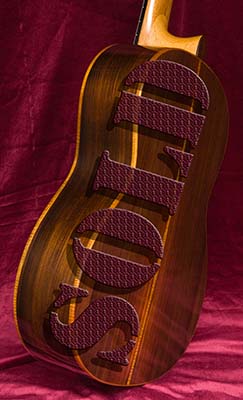 From time to time, I build a guitar from my limited stock of old Brasilian rosewood. The sound board is Englemann spruce and it features a fine, handcrafted rosette of spalted oak.
Normally, I would bind an instrument like this with Brasilian rosewood. However, to give this instrument a unique look I've used some flamed Koa for the binding.
In terms of sound, this guitar has a solid, singing treble and a big, fat sustained bass.
This exquisite instrument is no longer available for purchase; please check back here frequently as we'll be featuring another guitar soon.
You may click on the thumbnails below for full sized images of this fine instrument.
---
---
◊ Back to Features